With the world aligning itself to 2030 sustainability goals, multinational corporations are actively looking for the perfect combination of innovation and sustainability. Start-Up Nation Central (SNC) and ESIL (Environmental Sustainability Innovation Lab), together with EDF Renewables, Bazan and Johnson Matthey, held a startup competition to look for solutions that seamlessly combine tech and environment, culminating with a special online event on January 27, 2021, where winners were announced.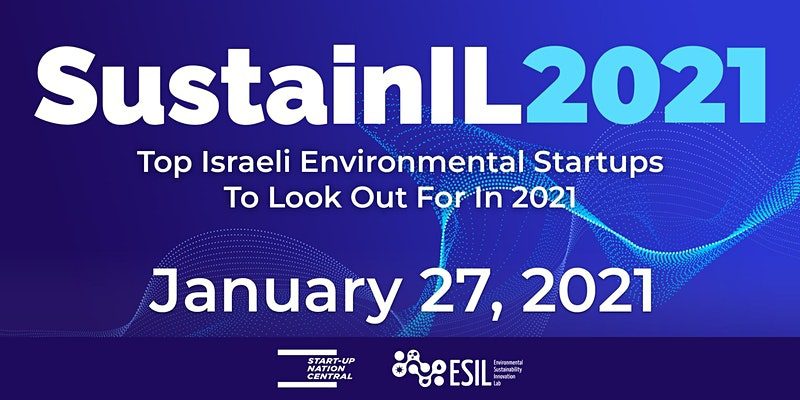 Waste conversion company UBQ Materials won the mature stage track. The company has developed a conversion technology that transforms household waste into green thermoplastic material. The patented bio-based material can substitute for oil-based plastics in the production of thousands of everyday products. With a climate-positive impact, UBQ aims to replace linear consumption models with circular economic ones, eliminating the need for landfills and conserving finite resources for future generations.
Clairion, which developed a solution for simultaneous removal of multiple pollutants from industrial emissions, won the early stage track. Its proprietary absorption and separation process transforms the pollutants into useful products such as fertilizers. The technology, which has been field tested and proven, will enable polluting processes and plants to comply with the strictest regulation while reducing cost and waste generation.
The two won a network of connections within the Israeli tech and sustainability network, which will also provide them with "warm intros" to global players – large corporations, VCs, and governmental entities, along with a nice cash prize.
Israel is ranked sixth on the Global Cleantech Innovation Index, and is among the countries with the greatest potential to produce commercially viable cleantech companies over the next 10 years. Start-Up Nation Central and its partners screened nearly 100 outstanding mature and early-stage startups for the SustainIL 2021 competition; consequently, six companies were selected as finalists by a judging panel of innovation leaders from Israeli and global corporations: SoLed, Luminescent, SGTech, and Chakratec, alongside the two winners UBQ Materials and Clairion.
Daniela Kandel, Senior Director at Start-Up Nation Central (SNC): "Israel is definitely becoming more and more of an 'Impact Nation' with over 750 of startups currently working on the solutions which will make the lives of people around the world better and safer, in our lifetime. We are working with the biggest global players in this field and so we understand that the demand is increasingly high for tech solutions, which were the four focuses of the competition: clean energy air, water and air treatment and circular economy. We are sure that both UBQ Materials and Clairion will each work wonders in the world and have a positive impact on all of our lives."
Eli Cymbalista, CEO of ESIL: "ESIL Innovation Lab is proud to support young and promising entrepreneurs who are working today on tomorrow's biggest challenges. Realizing that they have the capabilities and knowledge to meet said challenges, and that we can support them in their important role, our mission is to accelerate this process. In today's Israel, environmental and sustainability technologies are an integral part of the high-tech scene, with a new stock market index and an overall support from investors and the industry. We are confident that UBQ Materials and Clairion have the full potential today to be the new Augwind or Electreon, and we look forward to seeing them join the era of the global tech-climate revolution led by Israel".
Jack (Tato) Bigio, Co-founder & CEO, UBQ Materials: "Our climate-positive scientific breakthrough is able to substitute conventional, oil-based resins in the manufacturing of goods in industries spanning construction, furniture, supply chain logistics, and even auto parts. We are very proud to have been chosen as finalists alongside such remarkable startups, representing Israel's world changing innovation."
Hagay Keller, CEO of Clairion: "In addition to efficiently removing pollutants from industrial flue gas emissions, we transform them into useful and valuable products, and our unique absorbing liquid is continuously regenerated as  part of the process while maintaining its properties and efficiency. The beauty of our solution, is that it can be adopted by almost any polluting industry to assure economic and environmental benefits .We are proud to be recognized again for our innovative technology and potential for global impact."