Start-Up Nation Central reveals which sectors benefitted most from the COVID-19 pandemic and who caught the eye of foreign investors as part of its ongoing research into Israel's key innovation sectors.
TEL AVIV—Israeli Digital Health companies raised a record $1.9 billion in 2021, more than doubling the previous year's total, according to an end-of-year Digital Health snapshot published by Start-Up Nation Central, a nonprofit that promotes the Israeli innovation ecosystem around the world. 2021 saw a significant shift in investment trends, with more capital invested in later-stage rounds, leading to the median round size doubling from under $5 million to $10 million.
While the total number of funding rounds remained flat at 113 in 2021 compared to 111 in 2020, according to the data compiled from Start-Up Nation Finder, 37% of the capital went to later-stage companies (B rounds or later) as compared to 26% the year before. Roughly a quarter of the total capital invested in the Israeli Digital Health sector last year was raised in just three mega-rounds.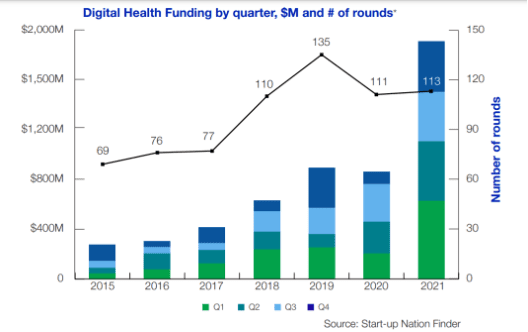 The report found that the growth in funding experienced in 2021 was driven mostly by strong investments in the Decision Support and Diagnostics subsectors. Companies in the Decision Support subsector raised six times more capital in 2021 than they did in 2020. The Remote Monitoring subsector, meanwhile, experienced the reverse — a very strong 2020, with a 55% decline in funding in 2021.
"Investments in 2020 were really skewed by the COVID-19 pandemic," said Start-Up Nation Central Senior Analyst and HealthTech & Life Sciences Sector Lead, Lena Rogovin. "Last year we saw that investors chose to focus on solutions that were more critical for solving the crisis, investing heavily in solutions for remote monitoring, which were in huge demand. This year, as urgency subsided, we saw a return to the traditional investment patterns, though clearly overall interest in Digital Health solutions has grown immensely as the world has become far more health conscious. We will continue to follow the activity in the Digital Health ecosystem as one of our key focus sectors and to advance and develop the activities worldwide and in Israel."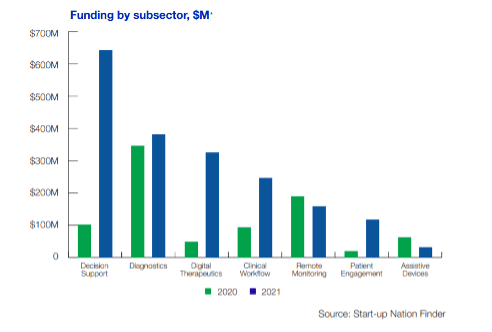 2021 also saw the arrival of a new type of investor on the scene. While Israeli VC firms continued to dominate the ecosystem, there was an uptick in interest by foreign VCs and CVCs.  Six out of the ten most active investors in Digital Health globally – including giants like Tiger Global Management and General Catalyst – chose to invest in Israeli companies. This indicates that global scale investors are taking notice of the developments in the Israeli Digital Health sector and are increasingly willing to wager on its success.
Start-Up Nation Central's 2021 end-of-year sector snapshot provides more data and insights on the Digital Health sector – including a breakdown of the biggest rounds, changes in investment patterns according to subsector, and a deeper look into the investors who are behind the record-breaking year – as part of Start-Up Nation Central's service to the sector and the ecosystem, offering in-depth data and market insights.
Start-Up Nation Central is the address for corporations, governments, and investors to connect with the Israeli tech ecosystem. We catalyze growth opportunities by bringing Israeli tech innovation to global business and societal challenges. Established in 2013 and headquartered in Tel Aviv, Israel, Start-Up Nation Central is a not-for-profit organization funded by philanthropy.
Start-Up Nation Finder is a free online platform for identifying and engaging Israeli tech organizations based on users' specific interests. This business innovation platform is a comprehensive knowledge hub on Israeli startups, investors, acceleration hubs, multinational corporations, and technology-based innovation associated with academic research. The platform provides up-to-date information and insights into thousands of active Israeli tech companies.