The "Alzheimer Challenge" was a competition for startups intended to encourage development of technology that can solve one of the biggest challenges posed by A
Neurosteer developed a solution designed for early detection and more effective treatment of Alzheimer's disease and a variety of other neurological disorders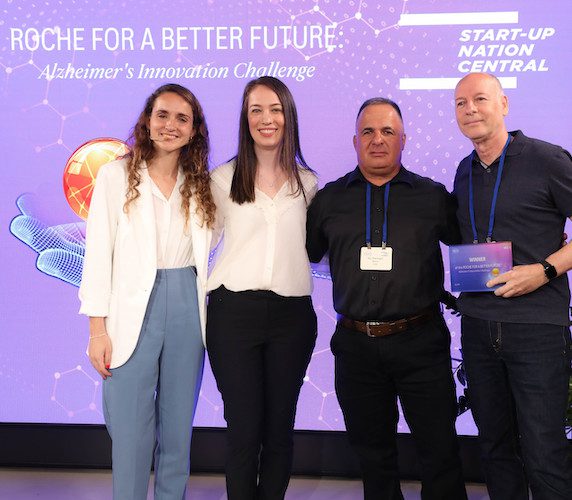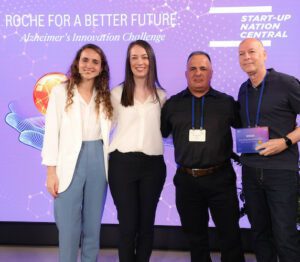 Thursday, July 14 2022: Neurosteer is the winner of Roche Israel and Start-Up Nation Central's Alzheimer's Innovation Challenge. Neurosteer, a Life Sciences and Healthcare company that developed a medical-grade wearable device and cloud-based system that provides real-time monitoring and assessment of brain activity, has won a grant of NIS 100,000, as well as the opportunity to test its systems in Roche's RoX global incubator in Germany, and professional consultation from leading Alzheimer specialists.
The purpose of the challenge was to discover the Israeli startups that are able to solve one of the most significant challenges facing scientists and physicians researching and treating Alzheimer's – diagnosing the disease in its early stages. The challenge featured companies that offer solutions for early diagnosis of the disease, statistical surveys that can predict the risk of getting Alzheimer's, as well as digital means of prevention, monitoring of patients, and elevating their quality of life.
Around the world there are roughly 55 million people suffering from dementia, 150,000 of which live in Israel. Alzheimer's is the most common form of dementia (60%-70%) and its frequency in Israel among people over 65 is 11.6%. The disease is expected to become more prevalent as the population ages, and according to projections by 2030 there will be more than 200,000 dementia patients in Israel. Early diagnosis, however, only catches 20%-50% of cases.
The consulting committee of the Alzheimer Challenge included members of Roche Global, leading physicians specializing in Alzheimer's, a representative of the Holon Institute of Technology (HIT), and the CEO of capital risk fund Almeda Ventures, Dr. Irit Yaniv.
"I would like to congratulate all startups that made the finals and Neurosteer for winning the challenge. We were highly impressed by the technologies, the creativity, the complex solutions, and the passion and commitment to deal with the challenges posed by Alzheimer's disease," said Roche Israel CEO, Avi Danziger. "I am very proud to be part of the Israeli ecosystem constantly aspiring to find innovative technological solutions for the great challenges facing the entire health system globally, and I look forward to creating long-term partnerships with the shared vision of promoting health services for the benefit of the entire population."
"I congratulate Neurosteer for winning the challenge and for being selected to work in such an important and life-saving field," said Start-Up Nation Central CEO Avi Hasson. "Israel's innovation succeeds time and again in finding groundbreaking solutions to a variety of issues and global challenges. The HealthTech sector is one of our organization's key sectors and there still remain many challenges there for Israeli entrepreneurs. We are happy to team up with Roche and with other partners to promote advanced Israeli solutions as part of our commitment to strengthen Israeli innovation and spread it to the world," said Hasson.
The panel of judges announced the following companies as finalists in the challenge:
ElMindA: elminda is the developer of Brain Network Analytics (BNA), an electrophysiology-based functional brain mapping, imaging, and monitoring technology.
The company combines big data analytics, artificial intelligence, and brain network activation mapping to quantify function and dysfunction, disease progression, and therapeutic effects in cases of brain injuries such as concussion and other neurological and psychiatric disorders, including pain and depression.
elminda's BNA technology has been CE marked and cleared by the FDA and is available for commercial and clinical use in the United States, Europe, Canada, and Israel.
Sensi.AI: Sensi.ai is an in-home virtual care agent for home health agencies and senior care providers. The Sensi platform leverages artificial intelligence to enable care agencies to offer round-the-clock services, despite the massive shortage of caregivers and regardless of the patient's financial capacity to afford 24/7 care.
The Sensi platform delivers audio analytics-based insights designed to help eliminate blind spots and to provide agencies with complete visibility and transparency into each hour of care without having to rely on input from either the caregiver or the client.
Off-shift, Sensi serves as a much-needed safety net, providing seniors with both confidence and independence in a safe, monitored environment, all without compromising their privacy.
Mon4t: Mon4t specializes in developing technology for the efficient and effective treatment of neurological disorders. It has developed a real-time remote brain monitor that is inexpensive, inclusive, and personalized to each patient, as well as an app that enables neurological evaluations of motor and cognitive skills to be performed by anyone at any time.
Mon4t's market includes physicians, who use the clinic version and pay per test; and patients, who use the home version and pay per month. The technology can also be integrated through SaaS into products designed for the pharmaceutical industry, medical device manufacturers, and HMOs.
In use worldwide, the company's technology is FDA and CE cleared, with thousands of samples from a wide range of disorders.
Neurosteer: Neurosteer has developed a solution for the early detection and more effective treatment of a variety of neurological disorders. It consists of a medical-grade wearable device and cloud-based system that provides real-time monitoring and assessment of brain activity. The company's current focus is on delivering objective biomarkers that identify the early onset of Parkinson's, Alzheimer's, dementia and epilepsy.
Neurosteer uses an adhesive forehead strip connected to a pocket-sized device that wirelessly transmits sensor data to the cloud for proprietary signal processing. Advanced algorithms then decompose the single EEG channel into 100+ individual components for real-time analysis and display on a Web-based dashboard. The result is more affordable screening, continuous patient monitoring, and optimized neurostimulation and drug selection, leading to improved neurological treatment and outcome of clinical trials.
Shomerosh: Shomerosh developed a cognitive tool based on machine learning for early detection and prevention of Alzheimer's. Today, the diagnosis of Alzheimer's is based mainly on neuropsychological assessment. Most of the cognitive tests are done manually and cannot detect the early preclinical stage, during which the neural pathology may still be reversible. The Shomerosh app is a user-friendly, noninvasive, and free detection tool. The prediction model is based on a customized cognitive assignment, created especially to detect the early stages of Alzheimer's, and can be completed from the patient's home.
About Start-Up Nation Central: Start-Up Nation Central is a non-profit organization that connects Israeli innovation to the world in order to help international entities solve global challenges. Immersed in the Israeli technology ecosystem, we provide a platform that nurtures business growth, recommends policies, and generates partnerships with corporations, governments, investors, and NGOs to strengthen Israel's economy and society.